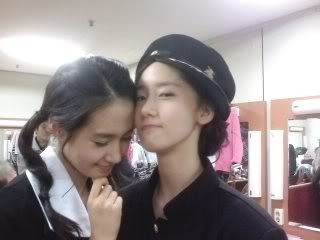 August 17th, 2008.
Yul: I'm shy Olabuni (same thing as Oppa)….☞☜ 

Yoong: Just trust your Oppa!

This was when we were getting ready for "I don't know love yet" special stage at KBS Gayo Festival ~♬

This time, my pretty dongsaeng Yoona was in charge of being a hansome boy~
I mean~ Have you ever seen a pretty student like this~ hehe
Isn't this awkward…?! Honestly.. this pose… didn't our roles switch..?!

We divided the teams into Oppa team and Unnie team and wore uniforms.. 9 of us stood there.. straight~
We looked so funny… We made everyone in the waiting room laugh.
And the 9 of us were busy laughing at each other on the stage~
That performance was funny and amusing whenever I watch it~ I am gonna watch it again ~
___________________________________________________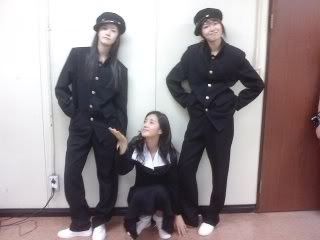 August 5th, 2008.
Yoona oppa, Yuri, and Sooyoung oppa don't have umbrellas because it started to pour all of a sudden.

Yul: When will the rain stop….?
Syoung: Rain ?! Oppa is right here beside you, so why are you afraid of the rain? Oppa will protect you~!
Yoong: it's raining~ go raining~ If the light reflects on me when I re-appear, i'll lowly do the ~ ssha! ss~ha! (the famous Bi dance)
If Kwon Yuri yells out 'oppa', then i'll slowly do the ~ ss~ha! ss~ha!
______________________________________________
August 8th, 2008
There was a girl who just got home. Saebyuk, who left at dawn and came back at dawn~ > <

"Unnie~ Me too~~~~~~~ T T!!" As soon as she got back, she changed her clothes and jumped straight into the pool, and Yoona passed out….
But the unnies.. left.. to sleep lol

(Look at Yoona's face, she's upset because she couldn't be together with us T_T)
Yoona~^^?! Sleepy head Sic and the rest of us couldn't suffer waiting for you.. When you were done 3 in the morning.. T_T 
I'm sorry, I'm sorry~ Unnie will learn how to photoshop next time and always be with you?^^ ♡
Be strong Saebyuk! The 7 unnies and maknae are always cheering you on!
(Note: Dawn is 'Saebyuk' in Korean)
Credit: 
http://soshified.com/forums/index.php/topic/7556-tossi-black-pearl-yuls-tossi-blog-entries/